Chinese women's magazine renews controversy with naked man meal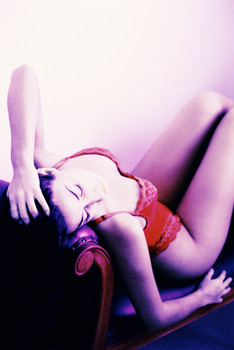 BEIJING, Sept. 26 Kyodo
A women's magazine in southwestern China has shot tapes of a two-hour feast served on a naked man's body in response to a flap last year over a Japanese restaurant in China that served sushi on women's bodies, the event organizer said Monday.
New Female, a magazine under the All-China Women's Federation in Chongqing, last week gave China Central TV tapes of a film shot in June 2004 of seven women eating a largely Japanese-style feast off the body of a 21-year-old man with a banana leaf over his private parts, said magazine editor-in-chief Wang Ji.
The CCTV news channel ran ''a few seconds'' of the broadcast, Wang said. Local media and the popular Chinese news portal Sina.com have since followed up with their own stories, some with photos of the meal.
Wang said New Female organized the private meal after noting the popular outrage over the use of two female university students at the upscale Japanese Hefeng Village Huaishi Cuisine restaurant complex in Kunming, also a city in southwestern China.
Serving food on a man has raised a storm of new criticism, much of it expressed online after Chongqing residents learned of the event last year, Wang said.
''I remember one comment, saying this is OK for women, but not for men. As you know, traditionally men's position in society is above that of women,'' said Wang, who is a man. ''But this (meal) is a kind of criticism. You don't want to insult the women.''
Senior staff members at the Hefeng Village restaurant say they stopped serving sushi on naked women after the story came to light in April 2004. The restaurant said it sold meals on women, who were decorated with shells and stones, in keeping with a Japanese culinary tradition.
Meals there would cost about 1,000 yuan ($124). In May this year, the State Administration of Industry and Commerce expressly banned meals on naked women.
Unlike the restaurant in Kunming, New Female did not sell tickets to the meal or involve the public in any way, Wang said. He said the man involved was chosen from 43 male models who tried out for the volunteer job. The film cost about 4,000 yuan.
The female diners, who were watched by more than 10 magazine staff members, took about 40 minutes to relax with the man, nicknamed Xiao Bo, according to the Chongqing Evening News. When one woman asked the man if he was hungry, he said he was, and cold as well, the paper said.
New Female magazine has no plans to repeat the event, Wang said.