Fashion Magazines for Real Women - Again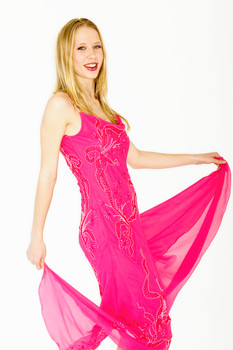 Byline: Susan Thea Posnock
As always, Fashion Week in New York was filled with the usual array of beanpoles-draped-with-designer-duds - to the glowing approval of fashionistas. And high-fashion mags like Vogue, Elle, and W continue to worship these impossible-to-emulate aliens on their pages.
The fact that most women will never buy those clothes and have never been those sizes has never hurt the fashion mags - Vogue scored a 60 percent jump in revenue with its weighty September issue. The magazines that fought the bulemic tide and tried to do fashion for larger women starved to death: Mode, which appeared in 1997, was gone by 2001, Radiance, which launched in the '80s, suffered the same fate.
But as the national girth grows, publishers continue to try to address what is clearly an overlooked demographic. According to American Demographics, the most oft-purchased dress size is 14 and the plus-size apparel market has grown from $24 billion in 1996 to $32 billion in 2000. It is projected to reach $47 billion in 2005, according to Packaged Facts, a division of MarketResearch.com. Overall, it accounts for 20 percent of the total apparel market and is by far its fastest growing segment.
Grace, published by Grace Media and launched in May 2002, is a bimonthly lifestyle and fashion magazine with a rate base of 200,000 with plans to grow to 850,000 over the next three years.
The latest entry into the field is a hybrid custom/consumer magazine called Figure, which debuted in August. The quarterly title is backed by Charming Shoppes, which owns plus-size retailers Lane Bryant, Catherines, and Fashion Bug.
"This is not a niche, it's a huge market that's been treated like a niche," says Geri Brin, co-publisher and editorial director. And the magazine has struck a chord. In its first three weeks on newsstands (and in 2,250 Charming Shoppes stores), it sold over 280,000 copies and 11,000 subscriptions. In addition to ads for apparel from Charming Shoppe stores, the premier issue carried ads from Pepsi and JP Morgan.
"Women feel there's finally a magazine they are comfortable with," says Brin. "This is a market that's been ill-served and under-served by fashion magazines."
Of course, that's exactly what the editors of Mode and Radiance said, too. But these new full-size fashion magazines could find the market more receptive. In a nation where 65 percent of women are size 12 and up, cultural attitudes about body image are evolving, even in Hollywood. Ceslie Armstrong, CEO of Grace Media and editor-in-chief of the bimonthly cites the 2003 Oscar telecast, with big, beautiful Queen Latifah strutting her stuff on stage (along with a very pregnant but still gorgeous Catherine Zeta-Jones). At the same time, Renee Zellweger was criticized for looking dangerously thin.
Oprah, among others, has made it ok for women to love themselves - as long as they're healthy - at any size, says Armstrong. The message is getting through. "When you see a cover story on People, 'Sexy at any Size,' that's a big leap," she says.
But are advertisers willing to be adjacent to size 8-12+ versus size 2-4? "Anorexic imagery is popular from an ad perspective in some of the fashion magazines." says Alan Jurmain, evp and director of media services at Lowe Worldwide. "Just because there are a lot of overweight women doesn't mean there's a demand for it."
The challenge is to get women to identify themselves as plus-size, says Audrey Siegel, svp for TargetCast TCM. "Demographically these magazines make perfect sense," she says. "But I think a size 14 or 16 or more woman doesn't want to go to the newsstand or subscribe to a magazine that is written for large-size women because that's only one aspect of her life. These segmented titles will continue to have trouble attracting and sustaining both an ad and reader base."
While something like the Oprah effect is important, Siegel says it is often undermined - even in O, The Oprah Magazine. "It's still largely filled with people you don't pass on the street."
The key to success for these titles, Siegel believes, may be to create an edit environment that welcomes all-size women, rather than trying to differentiate from what is already on the newsstand. That's a tough proposition in an industry that gets its dollars by targeting a specific audience. Figure and Grace walk a delicate line: They try to be different, without being too different.
Armstrong is sensitive to getting slapped with a "plus-size" label. In fact, she thinks that was one of Mode's mistakes. "We consider ourselves a lifestyle and fashion book that reflects women today. We don't further marginalize our demo because they are plus-size. That doesn't really fit, pardon the pun."