Media giant championed women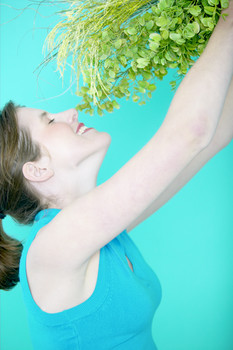 He's been called a legend, a hero, a visionary, a pioneer. Some revere him as a business leader, media giant and role model. John H. Johnson was all of these and so much more. During my 20-some years of working for EBONY magazine, I have grown to love and respect Mr. Johnson (he reminds me so much of my own father), and he has greatly impacted my life, as he has that of thousands, actually millions, of others.
One notable point about this great man and entrepreneur is that he has always believed that women can do as good a job as any man. I've heard him say just that.
Long before I was born, and long before others gave women opportunities to excel professionally, Mr. Johnson was hiring women in top jobs. The masthead of a 1950 issue of EBONY lists Era Bell Thompson among the editors (she later became managing editor), Doris Smith (Saunders) as librarian, and Willie E. Miles (Burns) as agency manager. For many years Mildred Clark oversaw the company's finances and retired as vice president and comptroller. When I arrived at EBONY some 30 years later, these strong and talented women were still affiliated with the company. And so were June Acie Rhinehart, who worked her way up from secretary to vice president and on through law school to become the company's senior vice president and general counsel; and the late LaDoris Foster, who was vice president and director of human resources.
My first day on the job, I was excited to interact with Mr. Johnson. We bonded immediately, in part because of our common Southern roots. He was from Arkansas and I from Tennessee. He often asked me to recommend other Southerners for job openings. "I like Southern people," he told me. "We have the right attitude, and we work hard."
As you might imagine, it was not always compliments that came from Mr. Johnson. Like scores of others who have worked for him (even some who have not), I have been blessed out and thus greatly benefited from those "teaching sessions." He himself often joked that you were not loved and valued if he didn't fuss at you from time to time.
Overall, Mr. Johnson was a fair man and a demanding boss. He had high expectations, yet he was nurturing and encouraging and had a keen feel for people. One time in particular I was feeling discouraged by obstacles (aka men) to my professional growth. Mr. Johnson knew what really was going on. He told me to be patient and continue to do a good job. I did, and in a few months I was rewarded with a promotion and a hefty raise.
Mr. Johnson has always championed women, respected women and honored women. And at Johnson Publishing Co., there is a strong contingent of talented women who are excelling. As with his magazines, Mr. Johnson (with Mrs. Eunice W. Johnson) saw a void in the beauty and fashion world, and thus founded Fashion Fair Cosmetics and the Ebony Fashion Fair show, thereby enhancing the company's emphasis on women and beauty and fashion. I feel fortunate to work for a company where race and gender are not obstacles.
During services for Mr. Johnson, Desiree Rogers, president of Peoples Gas and North Shore Gas, spoke eloquently of her family friend. "Most entrepreneurs have trouble thinking about the day when they would no longer run the company," she said. "Not Mr. Johnson. He knew that the future of the company was with a strong woman, his daughter [Linda Johnson Rice].This was the man who in 1972 led not just the African-American community, but the business world by naming three women as vice presidents to lead this company."
Mr. Johnson's credo, "failure is not an option," has long inspired me to work diligently to overcome challenges and be the best that I can be. Thanks to Mr. Johnson, this small-town Southern girl has been able to live her dream--the EBONY dream---of writing and giving back to the community.