Self made & paid! The new Black Power Movement is entrepreneurship, and African-American women are starting businesses in record numbers. But we need to stay in the game to win. Sister CEOs share lessons in longevity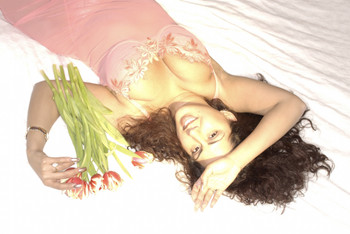 WHO DOESN'T LOVE THE IDEA OF BEING IN BUSINESS FOR YOURSELF? OF RUNNING YOUR OWN SHOP, calling the shots, managing assets (and maybe people), and making money as unlimited as your talents and enterprise? Statistics show that African-American women love the idea: According to a recent study from the Center for Women's Business Research, we launch businesses at a rate four times the national average, and we own everything from beauty shops and restaurants to boutiques, consulting firms, radio stations, advertising agencies and health spas. Our interest in entrepreneurship has always exceeded that of women of other races. Think Madam C.J. Walker, Cathy Hughes, Suzanne de Passe, Queen Latifah, Tracey Edmonds, Kimora Lee Simmons and Oprah. As of 2004, African-American women owned an estimated 415,000 firms. These businesses employ nearly 254,000 people and generate a total of $19.5 billion annually!
I knew I'd leave my job as a publishing executive and go into business for myself the day I closed on the sale of the first little apartment I owned, which sold for four times what I'd paid for it four years earlier; the check with my name on it had more zeroes than I'd seen in a lifetime of working a job. It's possible to make this much money just selling property? I thought, stunned, rushing to the bank.
Yet loving the idea of business ownership is one thing. Making the business a success is another. And the downside to the stats is that while we may start businesses at a greater rate than other groups, almost a third of our business ventures fail within the first three years, compared with 25 percent of the new businesses started by all women that fail during that time. Lack of money is the major reason most businesses fail. And for Black women, raising the money to comfortably finance a business remains the biggest hurdle. Nearly half of all Black-female-owned businesses start out undercapitalized.
It would take another two years before I left my job to start a real-estate brokerage business, and I would make almost every mistake imaginable. The major reasons so many of our businesses go under have nothing to do with how smart, talented, resourceful or hardworking we are; they have to do with common stumbling blocks new entrepreneurs aren't aware of. Failing to prepare a detailed business plan, secure capital, control growth, seek professional help, and hire the right people for the right job are just a few of the blunders that can wreck the bottom line.
As a new business owner, not only did I waste money buying an office instead of renting one, but I also worked alone instead of allying myself with a larger firm with experienced pros who could teach me the ropes. I bought property to refurbish and resell in a real-estate market that had tanked, running up onerous mortgage debts. During almost two decades, the first half of which were hard times for real estate and the other hall good times, I've survived largely because I've never lost my passion for what I was doing. But I was also fortunate enough to be able to go back to working regular jobs on a part-time basis when necessary. And I kept my credit rating sterling so I could borrow money when I needed more working capital.
Seven Success Secrets You Can Take to the Bank
If you're thinking about taking the entrepreneurial plunge, this rule is your key to success: Learn from those who've taken the hard knocks and avoid making our mistakes. Here's what I've gleaned from running my business, along with wise advice from savvy sister CEOs across the country.
1 PLAN YOUR BUSSINESS AROUND YOUR PASSION
I love the art and drama of buying and selling real estate. I love helping other Black women get rich through property ownership. I love the leverage, power and independence that owning real estate gives.
"What would you do free of charge?" asks Cheryl D. Broussard, author of Sister CEO: The Black Woman's Guide to Starting Your Own Business (Penguin Books). "That's where your passion lies and what your business interests are." If you are passionate about a business, you're likely to succeed because you'll hang in even if you aren't turning a profit right away, and then you'll soar when you do start making money. Take Roxanne Neilson, 40, who six years ago built a New Rochelle, New York-based commercial-property and construction-management firm, RM-Neilson & Associates, Inc., from the ground up before landing huge construction projects in the New York area. Now she oversees multimillion-dollar construction projects for the Brooklyn Academy of Music, a new children's museum at historic Rye Play-land in the New York suburbs, and a high school in a Harlem settlement house. Working day in and day out in a male-dominated profession carries tremendous pressures, but, she says, "I still love everything about this job. It's fascinating to walk into historic buildings and see how people did things a hundred years ago." Above all she appreciates being able to take care of herself and her family.
2 REMEMBER THE BOTTOM LINE
"If you're going into business, it should be to make money," says Broussard, who's also a financial planner in Oakland. Women don't always think in terms of profit, but we have to be clear about why we're in business, and a key reason is financial independence. Broussard says if you can't make more money working for yourself than working at a job, perhaps you should reconsider becoming an entrepreneur. "Black women in corporate America are one of the most underpaid of any group, which is one of the biggest reasons they want to start their own businesses," she explains. Ditto for those sisters in the public sector. "And sisters can make more working for themselves than for others, but you must know your business, have a plan, and do research on how to get financing."
We also have to be realistic about just how much money we need to launch a business. "Have at least one or two years worth of income as a cushion before leaving a full-time job," advises Broussard. "That means if you're making $40,000 a year, you should try to have about $80,000 in the bank. Businesses don't always go as planned. It may take longer than you think to turn a profit."
That's why you must have a clean credit history so you can secure a loan or line of credit when needed. What could have caused grief for Neva Lewis Blackwell, 45, who owns five-year-old Building Services by Design, a janitorial firm in Rocky Mount, North Carolina, were the months in which clients didn't pay on time, but she still had to make payroll. Fortunately, she knew from a small-business start-up course she had taken that she should establish a bank credit line in case of a cash-flow crunch. Her experiences with slow-paying clients and equipment expenses (like an annual purchase of new vacuum cleaners) made her glad she did.
After your enterprise is up and running, be mindful of the financial implications of every decision. Nine years ago when Sherron Hogg, 34, was expecting her second child, she left the corporate rat race to launch Too Unique Kids Daycare in Oakland. But an uncomfortable problem developed with a family of five children she'd been caring for: Their 24-year-old mother began having financial difficulties and was unable to pay for two months. Keeping all five kids in the program cost Sherron $6,000. But she felt it was wrong simply to refuse care for this struggling low-income family, so she helped the mother place the children in a Head Start program where she qualified for free after-school child care--a financial win-win for both.
3 BEGIN WITH A PLAN
I knew that by age 40 I wanted to be working for myself. Fine. But that's a business goal, not a business plan. A plan, says Broussard, is the map that gets you to your goal. Take time to write out your vision for the business: its mission, your objectives, the strategies needed and a plan of action to achieve the objectives. How do you intend to finance the business? What is your projected income after two or three years? How much does the business need to take in annually to stay in the black? Who is your market? What are you going to do differently to stand out from your competition? What are your long-term goals? To go public? To sell the business in 20 years and retire comfortably? To retire and pass on the business to your children?
Arian Reed, 24, learned the value not only of mapping out these issues up front, but also of revisiting her plan for her marketing-and-publications firm and continuing to revise it, especially through times of change and growth. Her company, AR PR Marketing, has offices in both Los Angeles and Atlanta and represents Flex Alexander, Shanice, and NFL players Marcus Stroud and Kiwaukee Thomas, among others.